Task Teacher Guide
Be sure to read the teacher guide prior to running the task. When you're ready to run the task, use the tabs at the top of the page to navigate through the lesson.
Oh No! You Must Be Logged In!
You must be logged in to access the Make Math Moments Academy Teacher Guides that provide:
The intentionality behind the task.
A full task walk-through including:

How to Spark Curiosity.
Intentional moves to Fuel Sense Making including anticipated student solution approaches, models, and strategies.
The Before, During, and After Moves teachers can make to ensure the task goes off without a hitch and,
Consolidation and Reflection Prompts you can give students to help you determine who heard what and where to take the task the next day.

Downloadable Media Files.
Printable Lesson Tips Sheets and,
Printable PDF Lesson Handouts.
Resources and Downloads
Oh No! You Must Be Logged In!
A downloadable PDF blackline master of this purposeful practice can be downloaded and used with your students in your classroom by LOGGING IN or JOINING: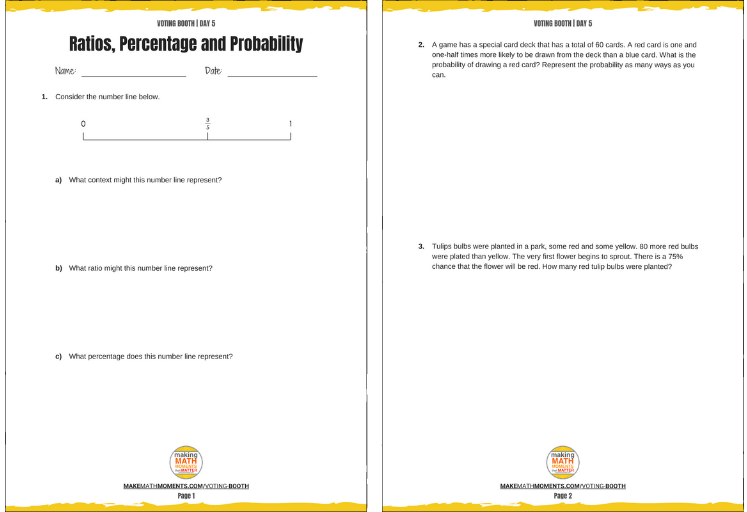 Download a printable lesson plan, video/images, and presentation slides in Keynote and PowerPoint format to make the experience as smooth as possible by becoming a member of the Make Math Moments Academy.
1. Consider the...
2. A game has...
3. Tulips bulbs were...
Download Printable PDF Handout
Become a member to access purposeful practice to display via your projector/TV, download the PDF to upload to your LMS and/or print for students to have a physical copy.