Task Teacher Guide
Be sure to read the teacher guide prior to running the task. When you're ready to run the task, use the tabs at the top of the page to navigate through the lesson.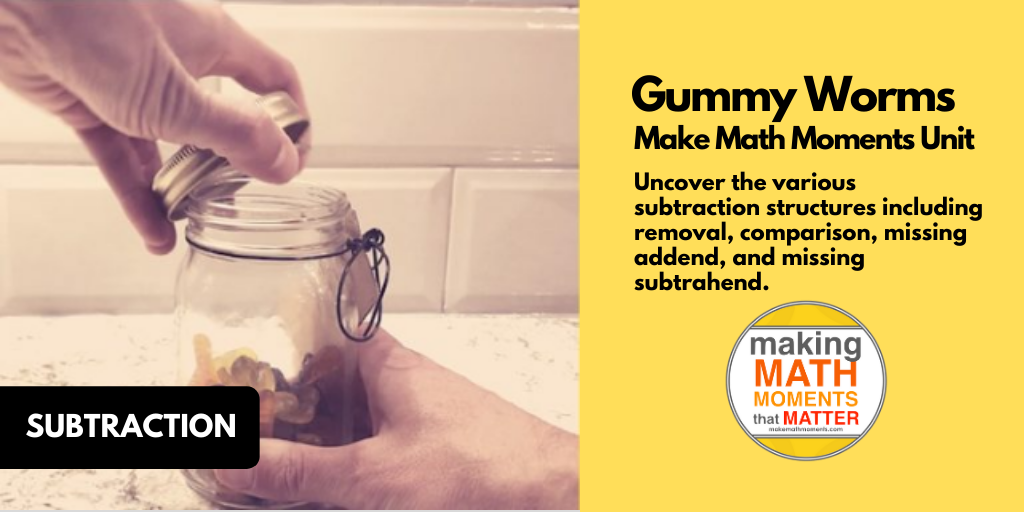 In This Task…
Intentionality…
Full Video Walk-Thru
Spark
What Do You Notice? What Do You Wonder?
Estimation: Prompt
While Students Are Estimating…
Reveal 1: Counting The Gummy Worms
Sense Making
Crafting A Productive Struggle: Video & Prompt
Intentionality…
During Moves
While Students Are Productively Struggling…
Student Approach #1: Concrete Materials & Counting 3 Times
Student Approach #2: Number Path & Counting Back
Student Approach #3: Part Whole Mat & Friendly Numbers
Next Moves
Consolidation
Reveal 2: How Many Are Left In The Jar?
Resources and Downloads
More Subtraction Professional Learning
Resources and Downloads
Oh No! You Must Be Logged In!
Download a printable lesson plan, video/images, and presentation slides in Keynote and PowerPoint format to make the experience as smooth as possible by becoming a member of the Make Math Moments Academy.
Explore The Entire Unit of Study
This Make Math Moments Task was designed to spark curiosity for a multi-day unit of study with built in purposeful practice, and extensions to elicit and emerge mathematical models and strategies.
Click the links at the top of this task to head to the other related lessons created for this unit of study.
What Do You Notice? What Do You Wonder?
Image #1
Prompt #1
Reveal: Video
Reveal: Image